100% Membership Program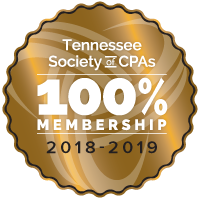 TSCPA values the partnerships we have with over 10,000 members in industry, government, business, education and public accounting. As our membership grows, so does our ability to represent you and the CPA profession in Tennessee to legislators, regulatory bodies and consumers.
When all of your staff are TSCPA members, your entire organization gains access to information on issues and trends, a network of talent and resources, as well as a gateway to education, publications and savings. Being part of the 100% Membership Program sets your firm or company apart.
100% Membership Program Benefits
Recognition - 100% Membership firms are listed on TSCPA.com, in the Tennessee CPA Journal and recognized at the TSCPA Annual Meeting. Firms are also provided with a 100% Membership Program logo to use on their web site and in newsletters.
Convenience - Group billing for easy dues renewal.
Awareness - A 100% Membership plaque for display in your office or reception area.
Savings - A 20% discount on room rentals at the TSCPA Meeting Center, located in the TSCPA office in Brentwood. Additionally, non-CPA staff receive member pricing on continuing education classes.
Eligibility Requirements
Firms and companies must have 10 or more CPAs employed who qualify for fellow membership.
Firms must agree to group billing.
Firm administrator must update the firm's employee roster online at www.tscpa.com. This update must be completed at the time of enrollment in the 100% Membership Program and annually thereafter.
Contact Kelly Smith at 615-377-3825 or ksmith@tscpa.com for more information and to enroll.
Frequently Asked Questions
When is the annual TSCPA dues renewal period?
Firms and companies participating in the 100% Membership Program will receive a dues notice for all employee members in March; dues are payable by April 30.
What are TSCPA dues for 2018-19?
Find out more about our Annual Dues Structure here.
How does the annual renewal work?
In preparation for the renewal period, 100% Membership Program firms will receive an online roster update request each January. Firm administrators will review and update their membership roster to reflect the current employee roster (employees can be added and removed online). The firms' annual dues renewal notice will be generated from the updated list.
How do new employees become linked to our firm?
If a new employee is already a TSCPA member, their membership will transfer once the firm administrator has added their name to the firm roster using the Add User To Firm link on the TSCPA web site.
If a new employee is not already a TSCPA member and meets the eligibility requirements for TSCPA membership, the firm administrator will add their name to the firm roster using the Create a Member Account link for the employee on the TSCPA web site.
Thank you to our current 100% Membership Program participants
Alexander Thompson Arnold PLLC
Blackburn, Childers & Steagall, PLC
Carr, Riggs & Ingram, LLC
Cherry Bekaert LLP
Crosslin, PLLC
Crowe LLP
Dixon Hughes Goodman LLP
Elliott Davis
Frazee Ivy Davis
G.R. Rush & Company, PLLC
HORNE LLP
KraftCPAs PLLC
LBMC
Mauldin & Jenkins, LLC
Pugh CPAs
Puryear Hamilton Hausman & Wood PLC
Reynolds, Bone & Griesbeck PLC
Rodefer Moss & Co, PLLC
Stone, Rudolph & Henry, PLC
The Marston Group, PLC
Thurman Campbell Group, PLC
Watkins Uiberall, PLLC
Winnett Associates, PLLC
WSW CPAs