The Power of a #thankfulCPA
The holiday season is officially in full swing. Halloween has passed, Thanksgiving is fast approaching and soon every radio station will be playing the never-ending rotation of holiday favorites. Sometimes, everything can move so fast it feels like it all blends together. During this busy time of the year, when someone takes the time to say "Thank you!" that intentional expression of appreciation can be even more meaningful.
Appreciation is something everyone craves and providing it can be a powerful tool for motivating employees, building customer engagement and strengthening relationships with colleagues. Everyone wants to know that who they are and what they do matters.
Below are a few easy ways that Certified Public Accountants can build a culture of appreciation at work:
The Tennessee Society of CPAs appreciates our 10,000 members. We hope you will take the time to pass on this attitude of gratitude to other members of your staff with these accounting themed downloadable thank you cards. Just print them off and share with others.
Join us as we share what we're most thankful for this Thanksgiving on social media using #thankfulCPA and don't forget to tag us at @TSCPA.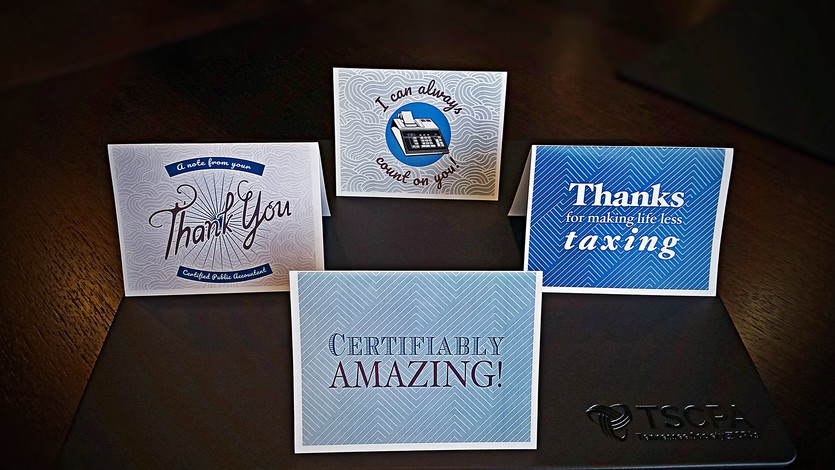 Tips for writing professional thank you notes:
Greeting: Use the recipient's name to make it more personal.
Thank You: Make it genuine and authentic to show that you truly care.
Personal Touch: Cultivate that personal relationship by mentioning something specific you remember about them.
In closing: Finish your note with a closing that is comfortable for you, whether it's "Warm regards," "Best wishes," or simply, "Sincerely"