Black History Month: Celebrating Accounting Trailblazers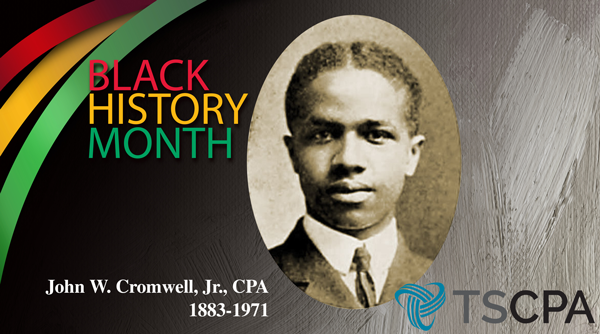 Black History Month is an important opportunity for us to celebrate the significant contributions and achievements of Black Americans throughout our history, including Black Americans that have been trailblazers in the accounting profession.
As a society that represents more than 11,000 diverse members, TSCPA is proud to support and celebrate Black trailblazers in the profession.
John W. Cromwell, Jr., CPA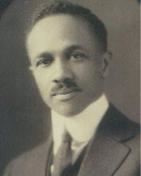 In 1921, 25 years after the first certified public accountant (CPA) certificate was granted in the U.S., John W. Cromwell, Jr. became the first Black CPA. He opened a door through which thousands of other Black accountants would eventually pass.
His father, John Wesley Cromwell, Sr., was born into slavery in 1846 in Portsmouth, Virginia. In 1851, their father purchased freedom for his family, and they moved to Philadelphia in the free state of Pennsylvania. John Cromwell, Sr. went on to become a lawyer, teacher, civil servant, journalist, historian and civil rights activist in Washington, D.C. He married Lucy A. McGuinn of Richmond and had seven children, including John Cromwell, Jr., born 1883.
Cromwell graduated with honors in 1906 from Dartmouth College and earned a master's degree in 1907 but chose to teach high school math because of limited practice opportunities. 
The road to becoming a CPA was not easy for Cromwell as he was not allowed to sit for the CPA exam in Washington, D.C., Virginia or Maryland. Moreover, it was impossible for African Americans to get a CPA license due to the experience requirement. Fortunately, New Hampshire passed a law that allowed people to obtain a CPA license without the experience requirement. With that change, he passed the CPA exam and was initially licensed in 1921 in New Hampshire. 
After being certified, Mr. Cromwell continued to teach high school accounting but also practiced in his own CPA firm in the Washington, D.C. area. He worked mostly with the Black community, providing service to churches, funeral homes, restaurants and lawyers.   
In 1930, he became comptroller of Howard University. In the early 1960s, 40 years after he earned his certificate, John Cromwell was still the only African American CPA in our nation's capital. John Cromwell, Jr. died in 1971 at the age of 88.