Business Travel Tips From One Young Professional to Another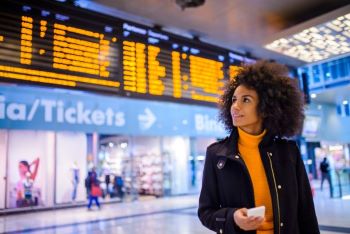 By Ben Russell
Traveling for business is an exciting idea for many young professionals. Some millennials have mastered the art of blending business travel with leisure travel, and research shows millennials associate business travel with job satisfaction. However, business travel can present new lessons and challenges, including what to pack, how to navigate airport security, and learning proper etiquette when dining with a client. Here are a few tips for young professionals who have just started, or are about to start, traveling for business.
Be Aware of TSA Security Rules and Procedures
No one likes being the person that holds everyone else up in line. Take a moment to research the rules and procedures for travelers and always be respectful to TSA agents. Expert tip: If you know that you are going to be a frequent flyer, sign up for TSA Precheck. The license is $85, but lasts for five years and includes perks that can save you valuable time, especially if you are in a rush.
Buy and Wear Comfortable, Appropriate Business Attire on Travel Days
Airport chairs and long car trips are uncomfortable even for the most seasoned traveler. Invest in some comfortable, appropriate business attire. A relaxed pair of fitted pants or a cushioned shoe can make a world of difference.
Invest in a Portable Charger for Your Phone and Laptop
As a traveler, it is inevitable you will encounter some kind of a delay on the trips that you take over the course of your professional career. With portable technology becoming more integrated in modern business, your devices need to be charged and ready to use. Expert tip: Invest in a pair of wireless headphones and make sure that they are well charged before your travels.
Sign Up for Frequent Flyer and Hotel Rewards Programs
If you plan to spend significant time traveling and staying in hotels, it is a good idea to consider a rewards program. In addition to the financial benefit, you can save time on creating future reservations and ticket purchases.
Get Travel Essentials
Showing up to a client meeting in wrinkled or well-traveled clothes is never enjoyable. A portable clothes steamer is beneficial and more time-efficient than ironing.
Building Client Rapport
While you are visiting a client, it is always nice to have some conversation about other items of interest. Finding common ground can lead to a more personal relationship, which means they are more willing to make time for your requests.
Dining Etiquette
When dining with a client who has taken you out for dinner, ask for a recommendation of what they like and either order that or something that is priced around the same as what they suggested. This eliminates any embarrassment or uncertainty about price and can be a talking piece.
Always Use Appropriate Language With a Client
Even if the client speaks inappropriately in front of you, inappropriate language in work situations can come across as unprofessional and give the client a different opinion of you.
Check What Items the Client Has for Use Before Packing
Before hitting the road or airport, check with the client to see if they have general items such as Wi-Fi, printers, scanners, extension cords, etc. Most clients are accommodating when it comes to allowing you to use these items and are sympathetic to the idea of traveling light.
Take Care of Yourself When You Travel
Traveling can be stressful and hard on your body, so taking care of yourself is very important. The last thing you want is to be exhausted or sick while on the road. Make sure that you make an effort to eat healthy, relax, get plenty of rest and exercise for your own health and mental clarity.
Safe travels!