Reverse Mentoring: Coaching the Boss?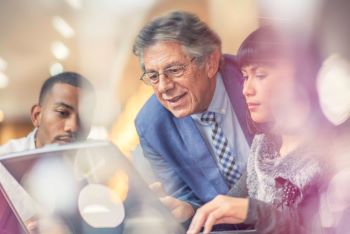 By Davoua Vang, CPA, CGMA
It is undeniable that times have changed. As a way to create value and to bridge the generational gaps within an organization, the idea of spinning the conventional mentor-mentee roles just makes sense.
Businesses and the way business is conducted has become more and more tech dependent as consumers and clients become more and more tech savvy. Traditional ways of reaching your audiences are slowly fading away as they are replaced with unconventional channels such as mobile apps, Twitter, Facebook, and Snapchat. I've recently started seeing "Chat Bots" used in conjunction with Facebook's Messenger app. Consumers are able to communicate with organizations via Facebook Messenger and receive instant automated replies on simple questions and directs them to their website or app if it isn't able to provide assistance. It even sends out messages occasionally to keep them relevant!
So what is reverse mentoring and how does it work? This idea of reverse mentorship was introduced by GE's CEO Jack Welch in 1999 and occurs when a veteran employee is paired with a younger employee with the desires of learning from each other. In order for this relationship to be beneficial, certain factors must be laid out. Factors such as well-defined expectations, the willingness to participate, trust, transparency, mutual guidelines and most importantly Executive buy-in.
United Healthcare, Target, MasterCard, Cisco, Microsoft and Deutsche Bank are among some of the organizations that have adopted this platform as a means to allow management to see with a "new set of eyes." This provides the opportunity for seasoned executives to strengthen their agility to transform to their ever-changing marketplaces. It also provides the junior professional an opportunity to learn the business and important leadership skills from their own leaders.
Not only is there value in the informational exchanges that occur, but it also promotes career growth, improves employee retention and fosters a positive learning culture within the organization. Not to mention the ability and opportunity to identify key personnel to better prepare for succession planning.
So why is this important and how is it relevant to our profession? The CPA profession is not excluded from this rapid change and innovation that is occurring within the marketplace and across all industries. As millennials enter the workforce and as your client base shifts towards a heavier population of millennials, they'll bring in values that are much different than the status quo. Not only will those values affect your organization internally, but you'll see that the needs of your clients will change as well. It is in our ability to adapt to and embrace these changes that will ultimately define our success and the future of public accounting.