Five Minutes With a Young CPA Member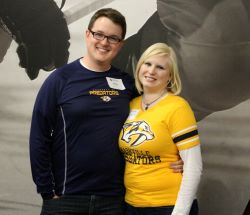 Rachel Lloyd with husband Josh at a
TSCPA Nashville Chapter
Predators Outing
We sat down with Rachel Lloyd, Nashville Chapter Young CPA chair and incoming secretary, to chat about TSCPA.
How did you become involved with TSCPA?
Attended a couple of Young CPA events before becoming a committee member. I wanted to network and get to know other Young CPAs. I wanted to help the next generation of Young CPAs coming out of college.
What is the main reason you are involved in TSCPA?
To meet other CPAs (not just my coworkers).
What is one of the most rewarding things you have experienced with your involvement in TSCPA?
Before I was the chair of the Nashville Chapter Young CPA committee, I went to a Beta Alpha Psi meeting at MTSU (my alma mater). There were approximately three or four of us, Young CPAs, there and we each told our story of what to expect out of college. The room was packed and the students attending asked lots of questions. So many questions, in fact, that I stayed after the event over an hour and a half answering them. I felt I had helped a few students understand what to expect out of college.
What is the one piece of advice you could give to other young CPAs and/or those that are just passing the exam, getting ready to embark in their career?
Network, network, network! Most Young CPAs either do not network or are unsure how it is done. The accounting world is not as large as it seems, although I know it may seem that way straight out of college. Don't just put your head down and work away; get involved in something and meet people. The more you do network, the easier it is. Networking is about building relationships.
What is one thing people would be surprised to know about you?
I played snare drum in the marching band throughout high school in Mt. Juliet and part of college at MTSU.